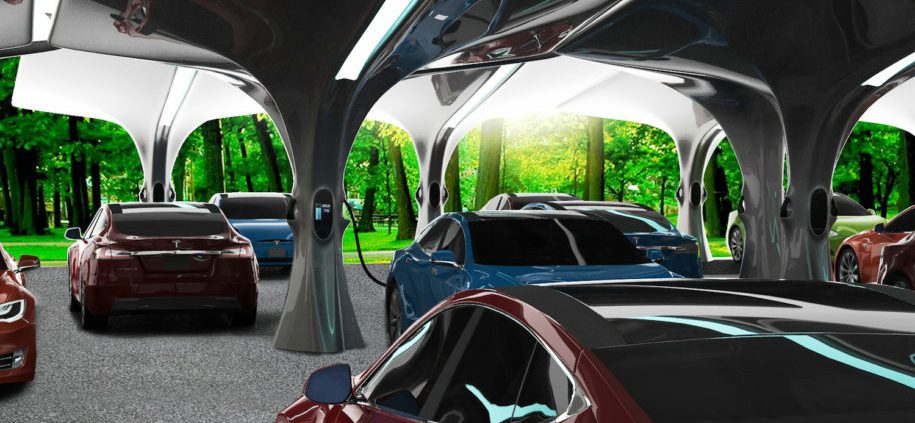 For the last four years TU Delft PhD'er Rishabh Ghotge was a familiar face at The Green Village. With his Nissan Leaf he researched Vehicle-to-Grid (V2G) charging of electric vehicle (EV) drivers. In his recently published article, he describes the acceptance of the people who used his V2G setup at The Green Village. And of course, being a field lab for innovative ideas, colleagues from The Green Village also took part!
Research
The Green Village on TU Delft Campus served as a testing facility, where 17 participants were given access to a V2G-compatible Nissan LEAF and the constructed V2G charging facilities. They were then interviewed to discover their findings after the experience.
How does V2G charging affect my battery? Do I get paid for it and how much? After my vehicle battery is discharged, will I have enough range to reach home? These were among the most common questions asked by the participants in the trial. The answers to these questions determined the extent to which the participants accepted the use of the technology. Outside the research world as well, these are expected to be the most important factors determining how V2G is accepted by the public.
The trial showed that people respond very differently to the same technology. "I am so fond of V2G that I'd like to change my lifestyle to fit the technology", said one very enthusiastic participant, after using the EV for a week. But another said, "I would not opt for V2G as the uncertainty in range is a very big drawback." These statements reveal how V2G is now a technology with a specific rather than mass appeal. Identifying the challenges that users face is an important way to get feedback to further improve how the technology works.
This research was done in collaboration with TPM (Technology, Policy and Management) Master student Koen Nijssen, Dr. Jan Anne Annema and Prof.dr.ir. Zofia Lukszo. Want to know more? Click on the link below!
Implementation
During these four years, Rishabh has been working on the PowerParking project, where the solar carport at The Green Village is implemented on a much larger scale.
In April 2021, the Municipality of Dronten opened a parking terrain with 1100 solar panels, which – in combination with a large battery – is capable of making their town hall energy neutral. A parking terrain with solar panels where renewable energy generation, electrical charging and energy storage are integrated as part of the PowerParking project.
https://www.thegreenvillage.org/wp-content/uploads/2022/07/Powerparking_Uitzicht-park-915x518-1.jpg
518
915
Caitlin
https://thegreenvillage.org/wp-content/uploads/2020/04/TGV-logo-150.png
Caitlin
2022-07-27 14:59:45
2022-07-27 15:04:48
Use before you choose: What do EV drivers think about V2G after experiencing it?