As a result of climate change, extreme showers with flooding and heat waves are occurring increasingly. The consequences are particularly noticeable in cities. Movares designed an integral solution as part of the competition Doe & Durf by NL-ingenieurs.
Rainroad is a water reservoir under a pavement or parking lot that provides cooling during hot days. Rainroad offers extra buffering capacity during extreme rainfall and is easy to implement and maintain. The system is well applicable in the densely built-up inner city and can easily be scaled up.
The concept is inspired by the capillary effect of water. This ensures that water can rise to the tops of a tree. In the case of Rainroad, this upward force ensures that the water is close to the road surface. Due to the heat of the sun, this water will evaporate and thus also cool the street. Here on the WaterStraat, students will, among other things, conduct research into alternative materials and the consequences of stagnant water.
For more information
Please contact Willy Spanjer, Project Manager Climate adaptation & Circular economy – willy.spanjer@thegreenvillage.org.
Want to read more? Click here!
Want to see more? Click here!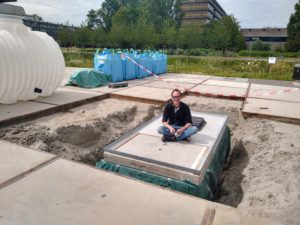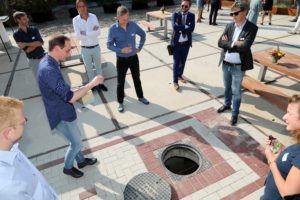 © Alwin Wink